Better for: Users who do not have other personal loan options. There are signs of a lack of trust that make the site not worth using.
Advantage: The site is easy to use and the application process is quite fast.
Cons: Consumer reviews mention having to pay the company directly to receive their loans. They currently have an F rating with the Better Business Bureau.

APR: 5.99 – 35.99%
MINIMUM BELIEF: Not disclosed
TERMS: 91 days – 72 months
ORIGINATION FEE: Varies by lender
FastLoanDirect is a loan comparison site that promises to provide users with personal loans regardless of their credit score.
In our FastLoanDirect review, we'll go over everything you need to know about this company to help you decide if it's right for you.
What is Fast Loan Direct?
FastLoanDirect is one of the many loan comparison sites available on the web.
What this means is that they will take your personal and financial information to match you with a loan from one of their partner lenders.
Potential users should note that FastLoanDirect is not itself a lender.
That means when you get your loan, you won't have to deal with them anymore.
They are essentially a broker to help you find various loans with less research on your part.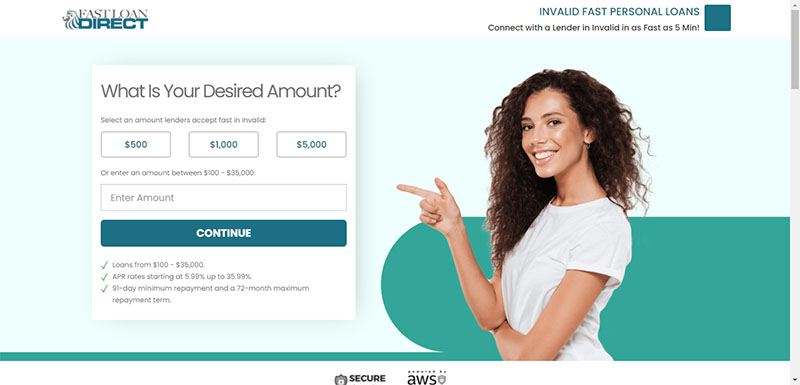 FastLoanDirect Highlights
FastLoanDirect provides users with loans from its network of lenders, known as "Network Partners" on its site.
Unique to FastLoanDirect is the very low minimum loan amount that users can request.
While most of the competition has a minimum loan of $1,000 or $5,000, FastLoanDirect allows users to apply for a loan as small as $100.
It is up to you whether a loan of that amount is worth it or not, but it should be noted that it is as low as possible.
Another thing to keep in mind is that the service is completely free.
When you use FastLoanDirect, you'll get loan offers without paying.
Of course, you'll have to pay the lender back once you receive a loan, but there's no cost to investigate with FastLoanDirect.
Later in our FastLoanDirect review, you will see that we have found many inconsistencies and potential problems with the service.
While it is ultimately up to you to choose which service to use, there are many red flags with the company.
FastLoanDirect at a glance
| | |
| --- | --- |
| loan amounts | $100 – $35,000 |
| APR | 5.99 – 35.99% |
| low credit | Undisclosed, but indicate "any credit score" |
| Terms | 91 days – 72 months |
| origination fee | Varies by lender |
| funding speed | 1 business day |
APR
The APR of the loans available at FastLoanDirect casts a very wide net.
They claim that their loan offer ranges from a minimum of 5.99% to a maximum of 35.99%.
This APR range, while it looks impressive, is average at best. Most other loan comparison sites will offer the same range, while some will provide users with an even better minimum APR.
If you have an excellent credit score and a decent financial picture, you may be able to find rates below 5.99% elsewhere.

Fee
Using FastLoanDirect is free. Signing in, entering your information and being referred to a loan will cost you nothing.
However, don't make the mistake of thinking that this means there are no fees associated with your loans.
Since FastLoanDirect is not a lender, they have no say in the fees assessed by lenders.
Be aware of the various fees that will apply, such as late payment fees, origination fees, and prepaid fees.
Transparency
I'm not a fan of FastLoanDirect's transparency.
Nowhere on the website do they list the lenders they work with, and I did find some inconsistencies in their marketing.
The website has several places where they are trying to market to local consumers by putting their state, but on my visit to the site, it said "invalid" everywhere instead of the particular state.
For example, one section says "Millions of dollars funded in Disabled by 2022."
For me, this significantly reduces the reliability of the site and makes me wary of using it.

Flexibility
The flexibility that FastLoanDirect offers is not too bad compared to similar sites.
The terms offered (91 days to 72 months) are pretty good for a personal loan and should satisfy most loan seekers.
Other than that, there isn't much flexibility in the loan details, but that's not necessarily FastLoanDirect's fault.
It is more a characteristic of being a market than a lender.
If you're looking for more flexibility and customization, it's best to go directly to a lender.
funding speed
FastLoanDirect states that users will get the funds for their loan in as little as one business day.
This is typical of most sites and is neither an advantage nor a disadvantage in my opinion.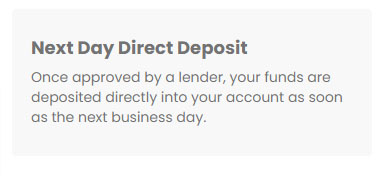 Accessibility
Considering the demographics of most FastLoanDirect users, I'd say the accessibility is pretty decent.
According to their marketing, they serve people of all credit scores.
This is useful for those in a bad financial situation who may need additional help.
Besides that, the requirements are typical of any other loan in the United States.
Users must be US citizens, have a bank account for the disbursement of funds and be at least 18 years old.
Other features
There are no other features to consider in FastLoanDirect.
In my opinion, this is a good thing, as the lack of extra features makes the site easy to use and easy for users.
Consumers looking for more robust features and options other than personal loans should look to a different site.
How to apply at FastLoanDirect
Since the website is so simple, the application process is quick and easy to complete.
Here's how to go through the entire process at FastLoanDirect.
Step 1 – Choose the loan amount you want and click "Continue"
Go to FastLoanDirect.com and start the process directly from the home page. Choose the loan amount you want, click continue and move on to the next step.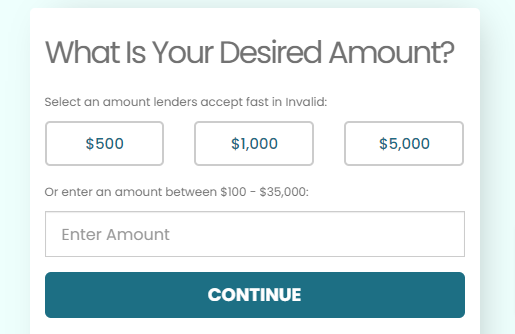 Step 2 – Fill in your demographic information
FastLoanDirect will ask for your demographic and financial information.
Be prepared to enter sensitive information, such as your Social Security number and bank account information.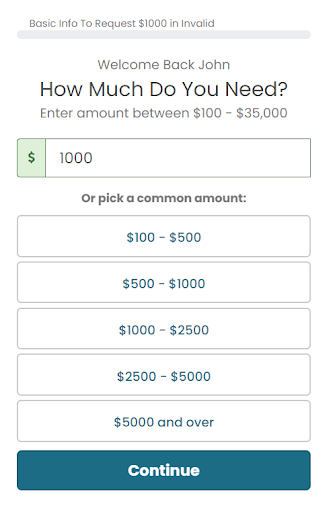 Step 3 – Choose a loan from the list
From here, you will be presented with several options from the FastLoanDirect network of lenders.
Once you select a loan, you'll be taken off the website and work directly with the lender from then on.
FastLoanDirect Consumer Reviews
One of the best ways to judge a company's trustworthiness is through consumer reviews. Let's see how FastLoanDirect fares.
Better Business Office
FastLoanDirect currently has an F rating with the Better Business Office.
They are not BBB accredited, which is not surprising given the low rating.
When it comes to customer reviews, on the BBB website, FastLoanDirect has a 3-star rating based on 2 reviews.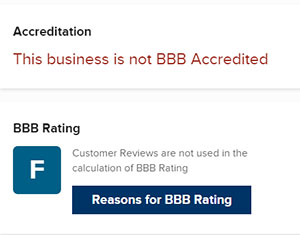 On TrustPilot, there are no consumer reviews available for FastLoanDirect.
I can't find any other consumer reviews online, which makes it hard to judge the legitimacy of the service.
| Critical | Affair | my take |
| --- | --- | --- |
| Anonymous on 7/14/2021 | This user claims that after being approved for the loan, he was asked to send money to receive the loan. They claimed this happened multiple times and totaled almost $1,000. | This is not normal practice. There are some fees associated with loans, such as an origination fee, but you should never be continually asked to send money before you can receive your loan. This sounds predatory, and if true, it could be illegal. |
| Dusty | Dusty stated that he paid $150 and is now being asked to send another $350 to have a red flag removed from his account. | This is another example of users being asked to pay in order to receive their money. This appears to be a scam and is not how any proper loan company should work. |
| Anonymous on 04/19/2019 | This user stated that he was approved for a $5,000 loan and was forced to pay a $500 Moneygram fee to receive the loan. | There aren't many consumer reviews online for FastLoanDirect, but it seems like most of the ones I can find involve users having to pay exorbitant fees to receive their money. This is not normal and is a big red flag for anyone thinking of using them. |
Is FastLoan Direct legit?
Based on the information I found online, I would venture to say that FastLoanDirect is not legit.
There are many stories of consumers being forced to pay fees and a lot of money to even receive their loans.
While there is still a chance that the company is legitimate, there are plenty of other companies providing the same service that have a much less spotty track record.
Advantages and Disadvantages of FastLoanDirect
FastLoanDirect is an unreliable site that can't even do what it says it will.
advantage
Easy to use: FastLoanPro is easy to use and simplifies the application process.
Decent APR and Terms: Offering rates as low as 5.99% and a wide variety of terms, users have many loan options.
Cons
Bad consumer reviews: The reviews make FastLoanDirect seem very unreliable and downright scam. Many other reputable companies offer the same service.
You need to enter bank account information on the application: I don't like this You must enter your routing number and account number to apply.
Lower rates offered elsewhere: There are some lenders that offer rates in the 2% range, much better than the minimum 5.99% offered here.
Who is FastLoanDirect good for?
If you have no other options, FastLoanDirect may be a good option.
However, there are many red flags and signs that the site may not even be legit, so I would stay away from those.
Who is FastLoanDirect not good for?
most consumers. The website has issues with its reliability and consumer reviews provide plenty of evidence showing financial malpractice.
The rates offered are not even more competitive than most others, so users would be wise to stay away from FastLoanDirect.
Alternatives to FastLoanDirect
FastLoanDirect FAQ
Is there a fee to use FastLoanDirect? There are no fees to apply and qualify for a loan. However, many online reviews claim that the company charged them money to receive their funds.
What can I use the loans for? Personal loans can be used for almost any expense. Common uses are home renovations, medical expenses, weddings, and debt consolidation.